Arguably one of the most dangerous events in the Varsity calendar, with both university's cycling clubs pushing their skills, bike and bottle to the very limit down a steep rocky track in the woods- this was an event not to be missed!
To keep it even, myself and Hallam's committee came together and built a new track specifically for varsity, from scratch. One day was set aside to build the steep, loamy fresh monster of a track we created- they say rome wasn't built in a day, but this certainly was!
Varsity Track (to be named) on pinkbike.com
With a brilliant turnout of 28 riders across both uni's, this had to be one of the best attended downhill events for years- a sure sign that cycling is on the up.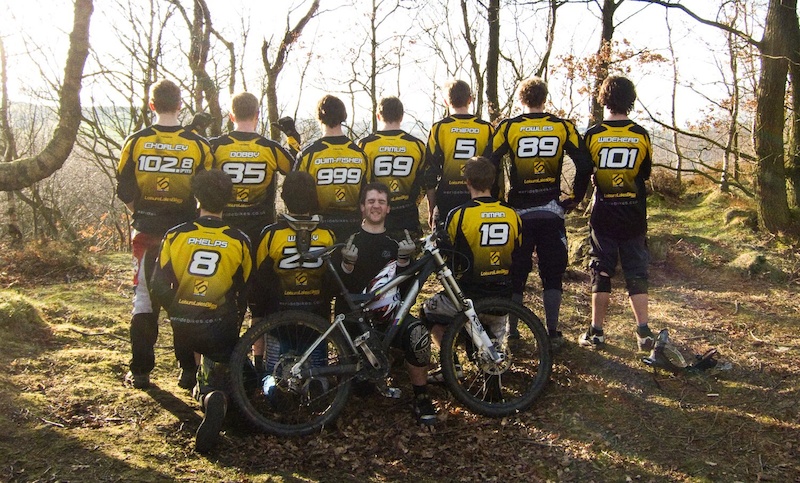 After a long practice session, racing eventually kicked off at 2.00pm. Timing was kindly done by myself, Tom Chaldecott, Oliver Lynch and Duncan Philpott- cheers guys!
The pressure was on- a lot of hype around the Hallam boys, having outnumbered the uni riders in the turnout stakes. Jonny Congreve started proceedings with a solid 1.28 for Hallam, whereas Tom Chaldecott didn't manage to make it past the first turn, and binned it earning him a DNF for his first run.
Ruari Hallam turned things around for Uni, with a smashing 1.23 (on a little bike too), and Jonny Chorley put in a wild 1.31 for uni to keep things on track.
Oli Lynch(Hallam) and Dave Camus (Uni) were last men down the hill on the first run, both putting in solid times of 1.24 and 1.25 respectively.
After first runs, Hallam had the lead by 7 seconds- not much in the grand scheme of things, but Uni really needed to pull out all the stops to beat them.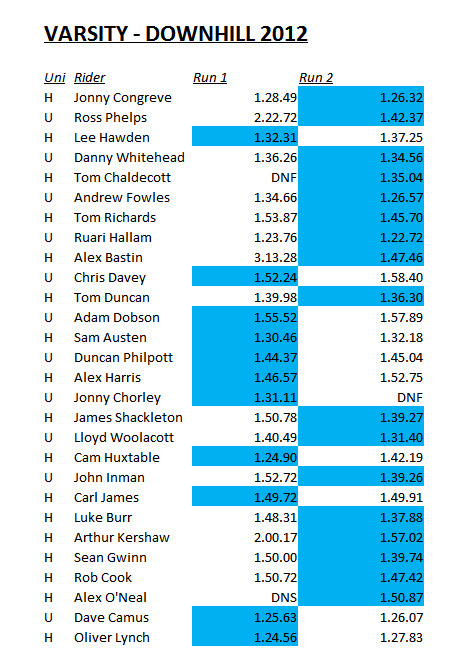 Hallam's second runs weren't quite up to scratch, Jonny Congreve knocked a few seconds off his first run, but it wasn't enough to deter Andrew Fowles' smooth approach taking 8 seconds off his first time, and Ruari somehow managing to take another second off his.

Results were totted up- we knew it was going to be close. Oh so close. But not as close as 0.21 of a second over nearly 6 minutes of racing- Uni just snatched the win and a valuble 0.5 points.
Just to say thanks to everyone that came, and helped make the event a success.