When red and white tape adorns the trees of Wharncliffe Woods in an obscure and seemingly random fashion, you know a Uni Ghetto race is on the cards!
This weeks outing was held on the questionably named Vajazzle, but not as you local boys know it. Due to some people not being a massive fan of the bottom section (mainly the course tapers Dave Camus and Steve Hardcastle) a 'Death Section' was taped, which involved a very off camber corner that led into the bottom section of NEMBA.
Being the all inclusive club that we are, locals boys were allowed to race for a minuscule fee of a quid, bargain. This prompted some real fast riders such as Callum 'CallumTPhotography' Biggin, SPS rider Freddie Oxley, and Polish National Champion Josh Mezza to come out of the Wharncliffe woodwork. Some kid rippers turned up too, with the troublesome twins Oscar and Jake Monk making an appearance.
After an hour or so of practice, racing got underway with the help of some synchronised stopwatches, couple of phones and a long line of bikes in start order.
Wharny vajazle race run 2 on pinkbike.com
Old man Steve Hardcastle got proceedings going with a not-so-old-man time of just over 50 seconds, putting the yewths in their place. Josh Mezza was looking rapid all practice, even though he hasn't ridden his bike much in the last few weeks/months, and some rivalry was brewing between him and favourite Freddie Oxley. They both put down sub 47second runs, leading the way in the first heat. Uni's fastest rider of the day Andrew Fowles tried to keep up, but just fell short with a fastest time of 48 seconds.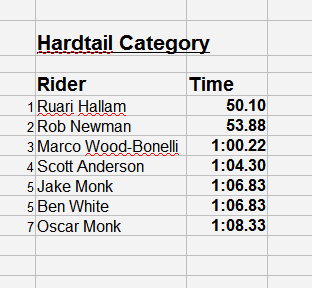 In the hardtail category, Ruari 'Bar Drag' Hallam was doing his thing and looking super smooth, and took the win as expected. Rob Newman in the 456 put in a solid 53 second run, but on him second run had a nasty crash and ended up with a lump on his rib and had an early bath. Scott Anderson decided to ride in a dress after ripping his shorts, and christened them by going heavily over the bars down the death section, in definitely the most impressive crash of the day.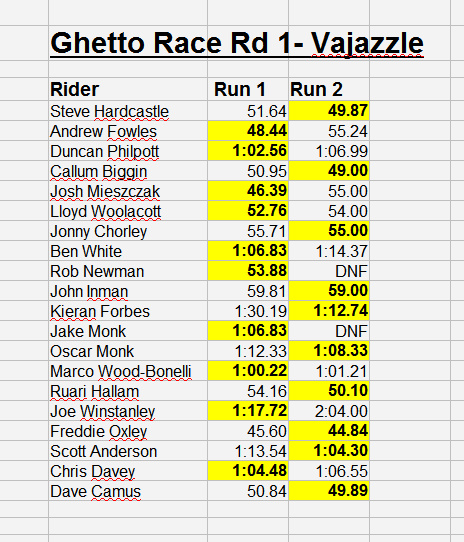 At the end of the day, the top 3 Riders went Freddie Oxley, Josh Mieszczak, Andy Fowles.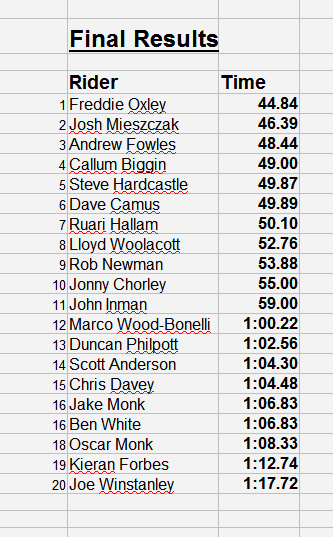 I want to thank Callum Biggin for the video edit and photos, and to everyone for turning up and racing- was such a good day and everything went so smoothly apart from a few crashes. Keep your internets locked to www.weridebikes.co.uk for information on upcoming ghetto races…